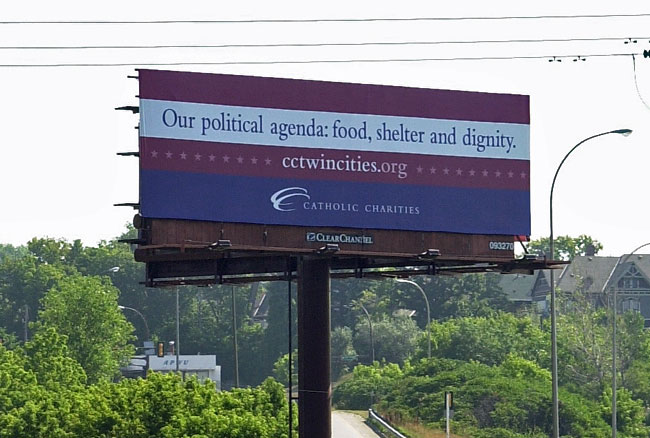 Catholic Charities is "guilting" the RNC
St. Paul, Minn. — Catholic Charities of the Twin Cities launched their own national political campaign today, although they're not actually looking to occupy the White House.

Instead, they're hoping to call wider attention to poverty and homelessness from their location, just feet from the Xcel Energy Center in St. Paul, the site of the Republican National Convention Sept. 1-4.

The charity today rolled out a campaign for the convention, hanging a banner on the Dorothy Day Center homeless shelter in downtown St. Paul and on a billboard on Interstate 94, just north of the Lafayette Freeway.

Rev. John Estrem, CEO of Catholic Charities, said he hoped the campaign would raise the profile of the homeless and the poor as national media attention turns to the neighborhood right around the Dorothy Day Center.

In other, the good father is hoping to:
1. Garner more government handouts
2. Make Republicans look like the greedy rich
3. Pull off a public stunt
4. Spend money on signs and advertising instead of food for the poor
Somebody should inform Fr. E that Republicans, as individuals are more generous and give a helluva lot more money out of their own pockets than the other party. Then again, that's not the kind of money he's looking for, is it?
I wonder how much money they spent on pro-life signs at the DNC convention?